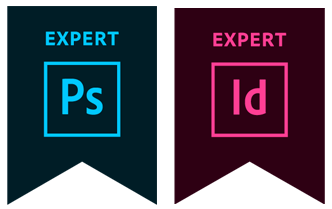 Experienced graphic designer and Instructor
In love with what I do, I am easy going, hard working, able to manage small teams, open minded and tech savvy. I really enjoy gaining new knowledge and I am open minded about new technologies
Instructor of Adobe's software, Adobe Certified Instructor for Photoshop and InDesign.

Professional Experience as a graphic designer
Currently: I am working as a freelancer and I am available to hire.
2015 - February 2016: Graphic designer and consultant in the National Technical University of Greece in a European funded programme for ebooks named KALLIPOS. For this I created a small series of instructional videos and written notes.
2011 - 2012: Retouching images and catalogue creation for Alida Mavroyeni's photo studio.
2007 - 2010: Collaboration with Lyhnia offset print bureau.
2005 – 2007: I created D-raft design studio which specialised on print media and web design.

Professional Experience as an instructor
2014-: Since the summer of 2014 I am teaching a Photoshop class in Hellenic American Educational Foundation's summer school.
2009 - 2011: Instructor for ANODOS S.A. which was the official retailer for Adobe in Greece. Certification as an Adobe Instructor.
2007: Collaboration with ProgramA, official retailer for Corel Draw, on trainings.